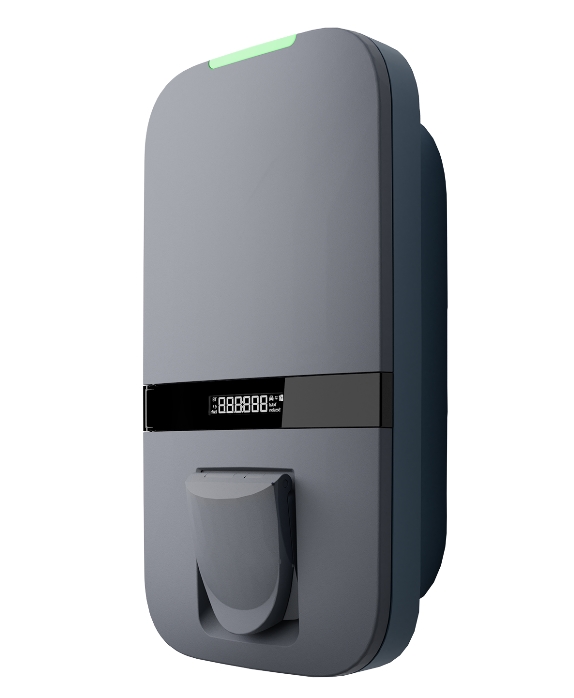 Neon
Unser einfachstes Wandladegerät mit 1 Steckdose
Plug & Charge: einfach einstecken und aufladen

Hochwertiges Kunststoffgehäuse

Ideal für nichtöffentliche Bereiche
Angebot anfordern
Vollständig installiert durch zertifizierte Techniker
Verschiedene Finanzierungsmöglichkeiten
Alle Produkte werden von uns bei Ihnen vor Ort getestet.
Features

Specifications

Options
Features
Plug connector
1 x European connection Type 2
Communication
Mode 3 (European charging standard)
Cabinet housing
Wall-mounted or freestanding
Measurements (HxWxD))
387 x 207 x 128 mm
Colour
RAL 7016 (dark grey), RAL 9011 Covers
Protection class
IP54, IK10
Temperature usage
- 30°C to +50°C outside temperature
Indication
LED multi colour
Built according to
EN 61000, IEC 61851/60068/62196
Personal security
DC-leakage
Energy management (load-balancing)
Standard
Power cable connection
Under or backside
Specifications
Power
3,7 - 22 kW per outlet / maximum 3x32A connection
Connection
230 or 400V AC 50Hz (TNS/TNC)
Access
Plug & Charge or RFID-card reader
Communication through GSM/GPRS/GPS
GSM/GPRS/GPS
Payment module with kWh meters
X
Access group of RFID-cards (local memory)
X
Access other RFID-cards (interoperable)
X
Options
Different colour (any RAL-code)
Yes
Back office subscription
No
Full colour printing with customisable design
Yes
Freestanding mounting pole for 1 or 2 Wall-Boxes
Yes
Trafic sign 'electrical vehicle parking'
Yes
Earth leakage switch (RCD) Type B internal (certain types)
Yes
Energy management: 'local smart grid'
No
Chargepoint charging cards
No
Benötigen Sie Hilfe bei der Auswahl?
Kontaktieren Sie uns jetzt





Our customers are very satisfied with the approach...
As providers of vehicle leasing services, we picked Chargepoint Europe to provide and install the charge points at our clients' locations and workplaces. The work required customisation of the product, adapting it to the site and the vehicles used. Our customers are all highly satisfied with Chargepoint Europe's approach.
Easy access to their team and quick response...
We arrange everything for our hotel guests, and that includes providing charging for their electric vehicles when they are here. We chose Chargepoint Europe to provide this service. They give us easy access to their support team and a quick response, which is very important to us.
Stijn Langebeek
- Van der Valk Hotel Groningen-Hoogkerk
The support of Chargepoint Europe is excellent...
A lot of our shared electric cars use Chargepoint chargers. The support we have received from Chargepoint Europe is excellent, and available 24 hours a day, every day of the week.
Frank Nienhaus
- eCarShare.nl
Chargepoint ist ein Allround-Service-Partner
Chargepoint Europe hat sich von Anfang bis Ende um alles gekümmert. Sie haben die intelligenten Ladelösungen in unserem Parkhaus entworfen und alles eingebaut. Chargepoint ist wirklich ein vollständiger Service-Partner. Sie bieten Unterstützung, Pflege und erledigen sogar die Stromzahlungen für uns. Hiermit haben sie eine vollständig zukunftssichere Lösung für uns entwickelt.
Ronald Karrenbeld
- VVE Stallingsgarage Ronsseveld